Well, it's been a busy time for me, with new art classes and workshops starting. In a piece of brilliant timing I managed to kick it all off by falling off my bike and breaking my wrist. On a happier note, it's only a hairline fracture and it's my left wrist, me being right handed, so it's been less problematic than I first feared. The most inconvenient thing is that I can't ride my bike so it's Shanks's Pony for the next few weeks, though many people have kindly offered and given me lifts to those places that are not quite walkable.  It's been nice to get back to my weekly classes though. I always like to go back to basics in September with some observational drawing. Not only is it a foundational skill that is a starting point for so many creative endeavours, there is something really pleasing about the quiet discipline of sitting with a familiar object and really focusing on how to translate what you can see onto paper. I'd forgotten how much I enjoy it. The brief I'd set was to bring an object that had a personal significance. As I have 2 classes in the week I thought in my own case I'd choose 2 quite contrasting things. For the Tuesday class it was my old teddy bear, Chubby.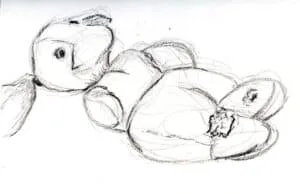 I've had him since I was 4 and he's looking a bit worn and fragile now, a bit like myself. This  first drawing was done with a Stabilo 'Woody', which is water-soluble so I'm going to play with that a bit next week to try and develop some tones. The other drawing is in biro, which I really enjoy using for the range of marks you can achieve. For Thursday's class I decided to take my dressmaking scissors and tape measure. Oh I so regretted that tape measure! Trying to show those inch markings as all being regularly spaced!! I ended up having to fudge it a bit and, now I look at it, I think the thumb hole of the scissors is also slightly out. it was a lot less forgiving than scruffy old Chubby!  Saying that though, I still enjoyed the challenge. It felt a bit like 'O' Level Art lessons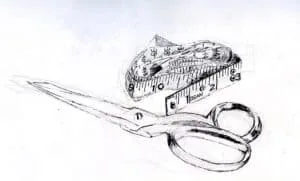 (ask your mum), all of us sitting quietly wrestling with the challenges of secateurs, balls of knitting wool and stacks of library books. It became quite a meditative process – I'm looking forward to seeing how we all take our drawings forward.